Triangulation
Our investment targets are chosen based on project size, location, and technology. We seek investment opportunities based on our core competencies and superior market knowledge, allowing us to optimize return on investment for our stakeholders.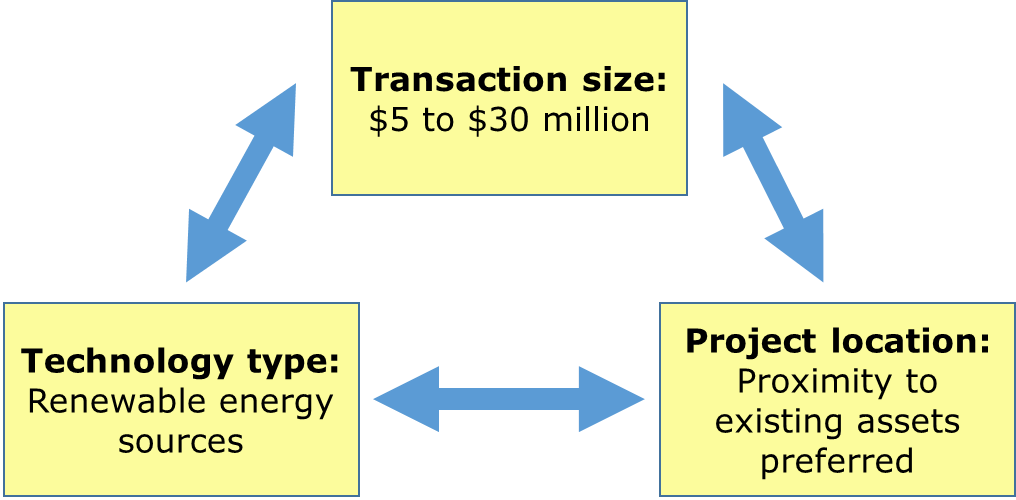 Investment criteria
Ampersand seeks small negotiated transactions in the $1 million to $30 million range, with returns commensurate with the associated risk. Ampersand does not exclusively seek assets with long term contracts, nor does it need to take a 100% interest. However, the asset must provide for positive cash flow, have the potential for expansion or optimization, and, if uncontracted, have access to either organized power markets or robust bilateral contracts markets.
Late stage development financing
In addition to purchasing existing small power production facilities, Ampersand provides late stage development equity to new projects and for the expansion of existing facilities. When providing late stage development equity, Ampersand generally expects in return a minimum of at least a controlling interest, recovery of initial investment at closing of permanent financing, and control or input into all negotiations regarding permanent financing and sale of the facility's output. Ampersand will consider taking on some permitting risk, and will consider merchant facilities. In addition to providing equity, Ampersand expects to contribute significant intellectual capital to the project by drawing on the extensive global experience of Ampersand principals. Ampersand can consider smaller scale tax equity investments if return criteria are met.